Agosto es el mes de vacaciones por excelencia, y también es el mes donde más apetece salir y divertirse. Si te quedas en Valencia apunta estos planes que podrás disfrutar sin salir de la ciudad.
Casa Patacona, ubicada en la zona del paseo marítimo de Valencia y con vistas al mar Mediterráneo, se convierte en el sitio clave para disfrutar de este mes ofreciendo lo mejor de la gastronomía y confort a través de sus múltiples platos tradicionales y famosísimos arroces. Un tándem perfecto entre el mar y montaña, costa y ciudad. ¡No te lo puedes perder!
Casa Patacona, located in the area of the seafront in Valencia and with views of the Mediterranean Sea, becomes the place to be and enjoy this month offering the best of gastronomy and comfort through its many traditional dishes and famous rice dishes. A perfect tandem between sea and mountains, coast and city. You cannot lose it!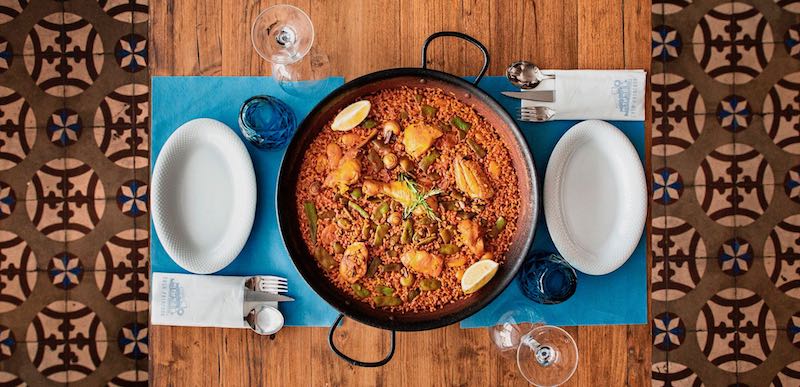 Passeig Marítim de la Patacona, 14 (Alboraia) T. 96 372 40 95 casapatacona.com
Cerca de la playa y de la ciudad, estés donde estés este verano, Heron City es un plan de ocio con muchas posibilidades. En este centro de ocio es posible encontrar el combo perfecto para que cualquiera lo pase en grande estas vacaciones: el mejor cine de Valencia, con una sala 4DX, una bolera de 26 pistas, un parque multiaventura infantil, Lasergame 2.0, gran variedad gastronómica y, además, conciertos en directo al aire libre. Todos los sábados de agosto entre las 20h y las 21h podrás disfrutar de espectáculos y música en vivo.
Close to the beach and the city, wherever you are this summer, Heron City is a leisure plan with many possibilities. In this leisure center it is possible to find the perfect combo for anyone to have a great time this holiday: the best cinema in Valencia, with a 4DX room, a 26-lane bowling alley, a children's multi-adventure park, Lasergame 2.0, a wide variety of cuisine and in addition, live concerts in the open air. Every Saturday in August between 8:00 p.m. and 9:00 p.m. you can enjoy shows and live music.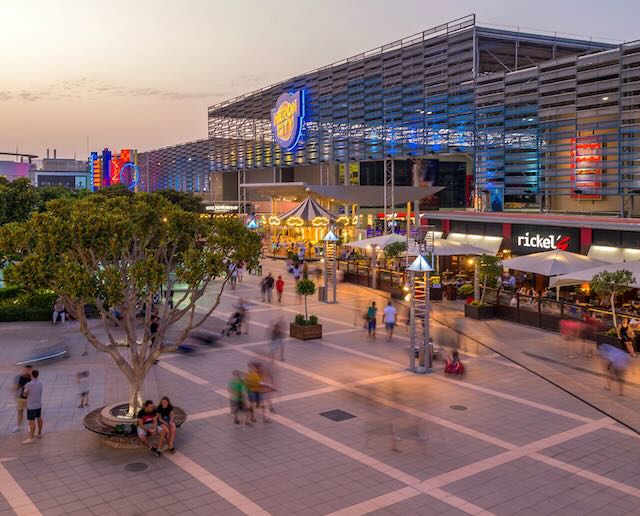 Encuentra la emoción, la frescura y la sensación de bienestar en Cocoa, un enclave privilegiado próximo a la linea de playa, en donde poder relajarse y disfrutar de los mejores arroces y de una cuidada carta con lo mejor de la gastronomía mediterránea con toques de fusión. Un lugar pet friendly donde podrás disfrutar de diferentes espacios, con vistas al mar, jardín privado, salón interior y una amplia terraza para disfrutar del buen tiempo.
Find the emotion, freshness and the feeling of well-being in Cocoa, a privileged place near the beach, where you can relax and enjoy the best rice dishes and a privilege menu with the best of Mediterranean cuisine with touches of fusion. A pet friendly place where you can enjoy different spaces, with sea views, a private garden, an interior lounge and a large terrace to enjoy the good weather.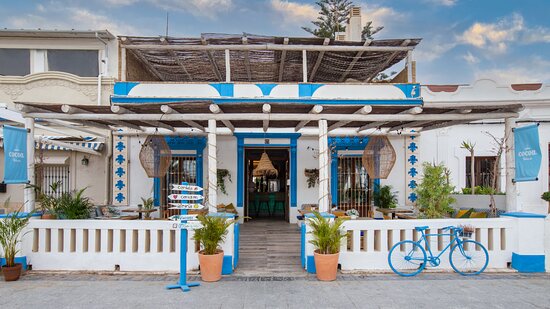 Av. Mare Nostrum, 4, Alboraia T. 96 003 35 18 | vivecocoa.com
Una dulce manera de combatir el calor de este verano son las trufas clásicas, chocolate, frutos secos y nata, recubiertas de suave chocolate en escamas, una refrescante y perfecta mezcla; o bien con la innovadora tarta fusión, esta tarta como bien indica su nombre fusiona dos de nuestros productos más representativos, la trufa y el cubanito para un exquisito bocado..
A sweet way to combat the heat of this summer are the classic truffles, chocolate, nuts and cream, covered with soft chocolate flakes, a refreshing and perfect mix; or with the innovative fusion cake, this cake as its name suggests fuses two of our most representative products, the truffle and the "cubanito" for an exquisite bite.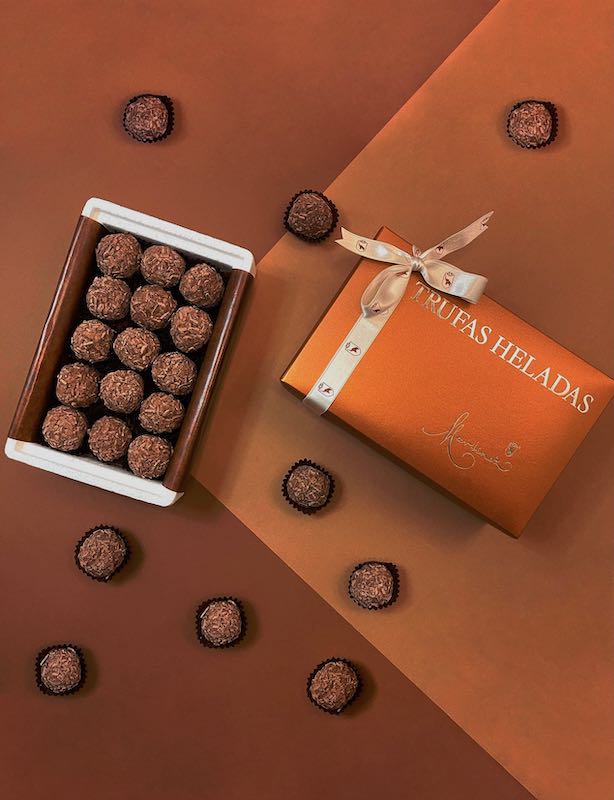 ¿CONOCES EL ALMA DE TAPINERIA?
Creado a través de diferentes espacios, el Mercado de Tapinería es un punto de encuentro en pleno Barrio del Carmen con diferentes locales en los que puedes, comer, adquirir productos artesanales y de comercio local. The Mercado es una concept store en la que puedes encontrar una gran diversidad de productos artesanales. Y por último, Bar&Kitchen que fusiona la gastronomía española más tradicional, con platos de todo el mundo.
Mercado de Tapinería is a meeting point in the middle of the Barrio del Carmen with different places where you can eat, buy handmade products and local trade, The Mercado is a concept store where you can find a wide range of handmade products, and Bar&Kitchen offers varied menu based on seasonal and zero-kilometre products, which fuses the most traditional Spanish gastronomy with dishes from all over the world.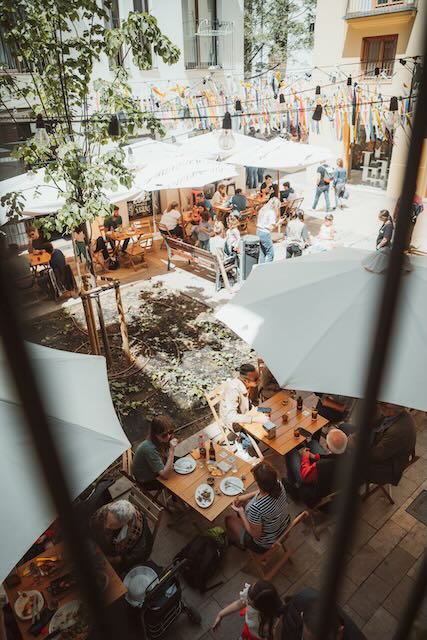 Tapineria, 15 | T. 961 48 87 17 mercadodetapineria.com
LA OTRA PARTE/MESTIZA 
Si estás por el barrio de El Cabanyal, pásate cualquier día de la semana y sin reserva por La Otra Parte, taberna cabañalera con producto de mercado. Sabor y calidad frente a la Playa Las Arenas. Si lo que buscas es un plan diferente, ven a MESTIZA Plant Based Food, situado también en El Cabanyal. Un imprescindible para probar los bocados veganos más sabrosos de Valencia.
If you are in the neighborhood of El Cabanyal, stop by any day of the week and without reservation at La Otra Parte, a tavern with products from the market. Flavor and quality in front of Las Arenas Beach. If what you are looking for is a different plan, come to MESTIZA Plant Based Food, also located in El Cabanyal. An essential to try the most vegan tasty snacks from Valencia.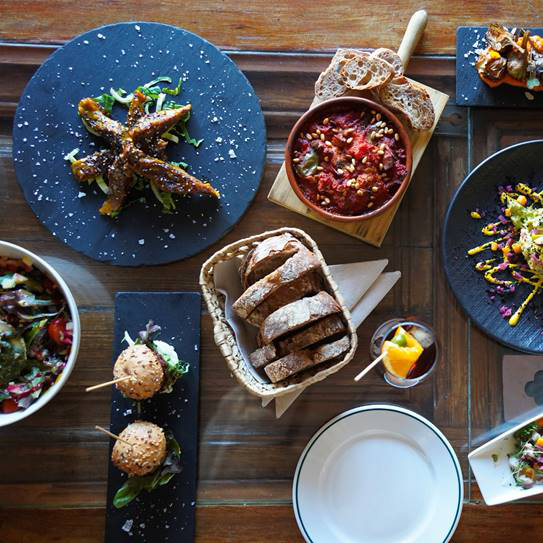 LA OTRA PARTE Carrer d'Eugènia Viñes, 113 @laotraparte_barrestaurante MESTIZA Carrer de la Reina, 186 @mestiza_cabanyal
Nou Racó es un restaurante único situado en pleno parque natural de la Albufera. Entre sus especialidades destacamos sus paellas valencianas hechas a leña, las cenas al aire libre junto al lago con música en directo y la magia de las puestas de sol en la barca saliendo de su propio embarcadero.
Nou Racó is a unique restaurant located in the Albufera Natural Park. Among its specialties we highlight its wood-fired Valencian paellas, outdoor dinners by the lake with live music and the magic of sunsets on the boat leaving its own jetty.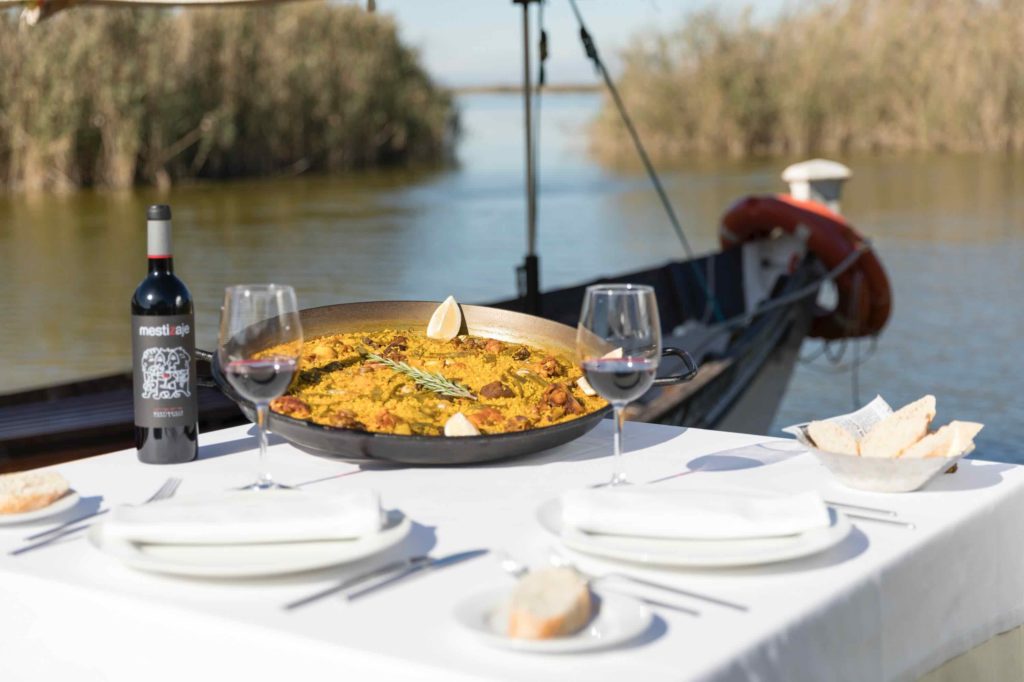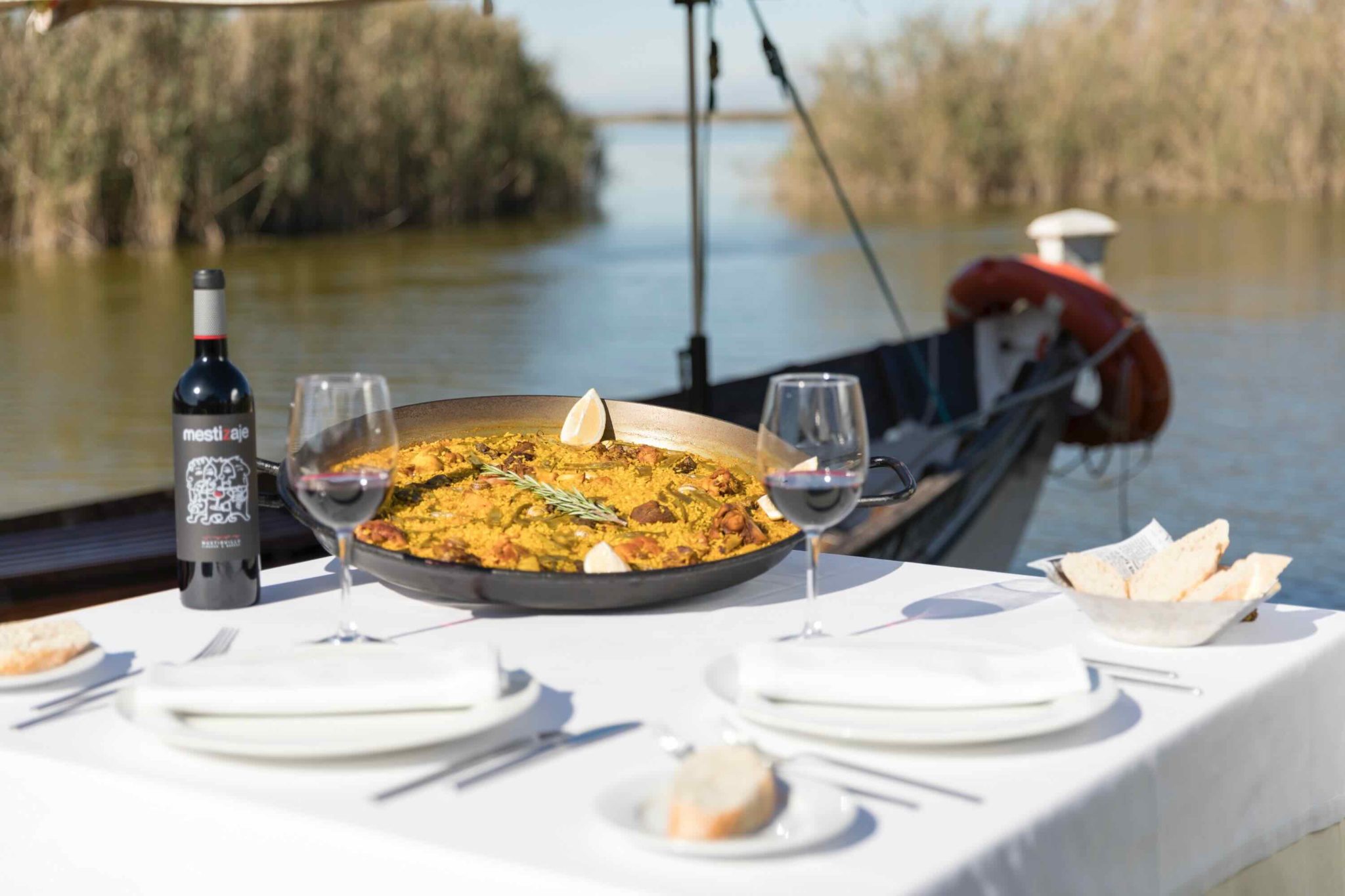 Carretera del Palmar, 21 T. 96 162 01 72 | nouraco.com
Disfruta de los planazos que ofrece el Centro Comercial Saler. Enfrente de la Ciudad de las Artes y las Ciencias, y conectado al centro histórico gracias a la nueva línea de metro. Ven y hazte selfies en las fuentes más instagrameables, tómate un rico helado en Pops 'n Bops y, por supuesto, haz shopping en tus tiendas favoritas. Y si lo que quieres es picar algo rico, tienes un montón de opciones de restauración. Además, cada viernes de agosto, de 19:30 a 23:00h, Saler te trae las Saler Session a sus terrazas de la mano de DJ's profesionales. El mejor planazo para agosto.
Enjoy the summer in Valencia with great plans like the ones offered by Saler Shopping Center. Right in front of the City of Arts and Sciences, and connected to the historic center thanks to the newly opened metro line. Come and take some selfies in the most instagrammable fountains, have a delicious ice cream in Pops 'n Bops and, of course, shop in your favorite stores. And if you want to snack on something delicious, you have plenty of restaurant options. In addition, every Friday in August, from 7:30 p.m. to 11:00 p.m., Saler brings you the Saler Session to its terraces by professional DJs. The best plan for August.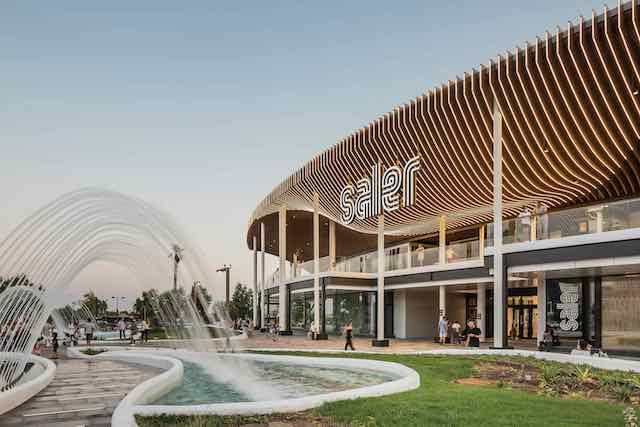 Av. del Professor López Piñero, 16 @ccsaler ccsaler.com
TAMBIÉN TE PUEDE INTERESAR: