The Amy Winehouse Tribute Show es un espectáculo que destaca sobremanera por su fidelidad con el original, gracias a una banda formada por 10 reconocidos músicos de la escena musical valenciana (de proyectos como Sedajazz, Pablo Casal Group, Johnny B Zero, The Kojacs, Green Covers, Trading Licks, músicos de Gospel…) y capitaneados por su particular Amy: Cristina Cantero.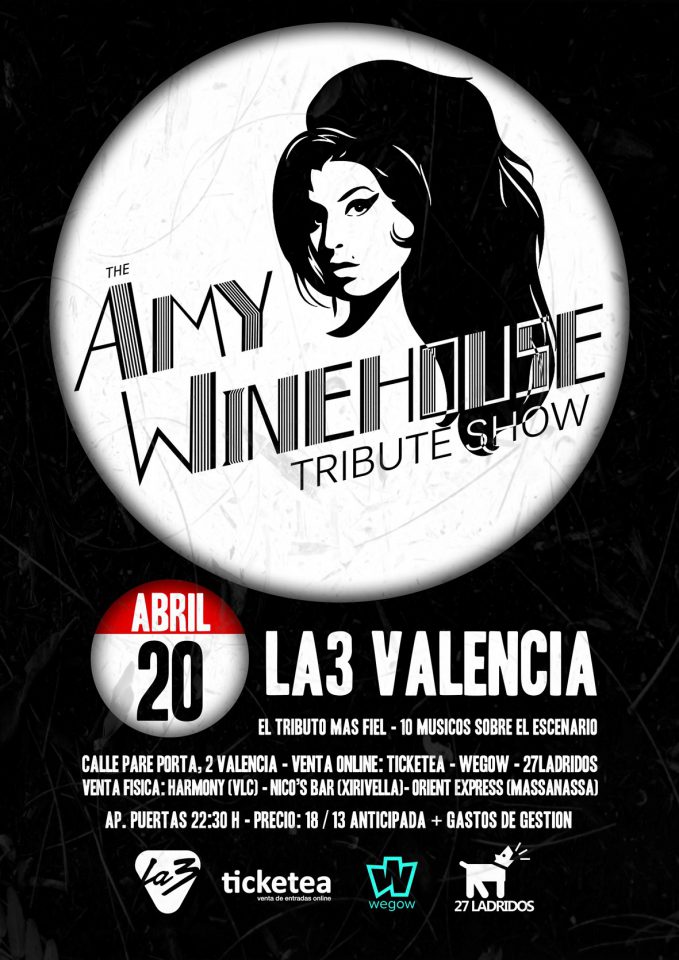 Sin duda alguna una oportunidad única de disfrutar en directo de la magia de Amy Winehouse.
La cita tendrá lugar el próximo viernes 20 de abril en La3 Club (Valencia) a las 22:00. Las entradas anticipadas ya están a la venta. Aquí os ofrecemos un pequeño adelanto del concierto.
https://www.youtube.com/watch?v=qoDWcWSzenk
ACREDITACIONES DE PRENSA E INFORMACIÓN
info@27ladridos.com
DATOS GENERALES
THE AMY WINEHOUSE TRIBUTE SHOW EN VALENCIA
20.04.18 | La3
(c/ Pare Porta 2, Valencia)
APERTURA DE PUERTAS 22:30
EVENTO EN FACEBOOK
ANTICIPADAS 13 € (+GG) EN:
WEGOW
TICKETEA
FÍSICAMENTE EN:
Discos Harmony (Pasaje Doctor Serra 9, Valencia)
Orient Express (Avda. José Alba i Alba 18, Massanassa)
Nico's Bar (Plaza de la Concordia 3, Xirivella)
TAQUILLA 18 €
OTROS ARTÍCULOS RELACIONADOS: